Links
**In need of a custom banner? I can make one for you! I make my own banners as you can see here on my site. They can be animated or non animated. I've also made the banners below. ( Doxie Lovers Galore, Dakota Doxies, Bass's) You chose photos/graphics, colors, styles, themes, etc. ($25.00 each) If interested please email me!**
Doxie Forum filled with info, friendship and love.
Here are links to other dachshund breeders. Breeders I've done business with are marked with a
Feel free to email or call on any breeder listed here. I'll tell you about my experience with them, good or bad.
If you would like to link to me please grab my banner (click on it and save) and add it to your site. If you'd like me to place your banner on my site please email it to me.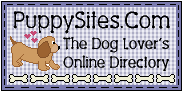 www.DoggieDealer.com – Dogs for Sale by Dog Breeders as well as a Dog Breed List with useful dog breed information. 
 http://www.justdogtreats.com – Shop JustDogTreats.com for all your dog treat needs. Offering a wide selection of all natural dog treats, do biscuits & cookies, gourmet dog treats, real meat treats, puppy treats, rawhide dog treats and chews & more. 
GreatDogSite.com provides comprehensive, in-depth Dachshund information. 

Dog Web Directory
Add Your URL FREE, Boost Your Web Site's Traffic & Rankings
Web Directory – www.doggyz.com